Fitur Know-How & Export, an initiative launched by SEGITTUR and FITUR in collaboration with ICEX España, the Spanish Institute for Foreign Trade, celebrates ten years of promoting the internationalisation of Spanish technological solutions for the tourism industry.
Over the course of these ten editions, more than 300 companies have participated in Fitur Know-How & Export, an initiative that was established with the purpose of providing visibility and promoting internationalisation, both for destinations and for companies. Spain had developed know-how, and the time had come to share it.
Fitur Know-How & Export has firmly established itself as a benchmark event for the tourism sector, and a tool for gaining visibility. Loyalty rates are very high, some companies have been present at more than seven editions, as thanks to their participation in the event they have expanded their business portfolio, and have successfully marketed their products outside of Spain.
The President of Segittur, Enrique Martínez, underlined the importance of an initiative that year on year attracts increasing interest, because it provides an international showcase and a window on the knowledge and experience of Spanish companies with expertise in tech solutions for the tourism industry.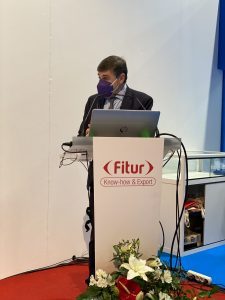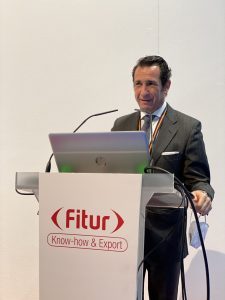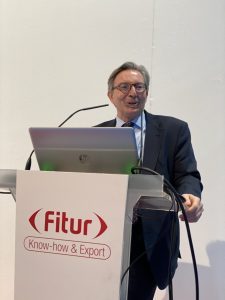 Antonio López de Ávila, President of SEGITTUR from 2012 to 2017, was the driving force behind this initiative, which right from the beginning had the support of Fitur and ICEX, who were convinced of the need to share this know-how in tourism and technology. For his part, Fernando de Pablo, President of SEGITTUR between 2017 and 2018, continued to support the initiative, which had already been firmly consolidated, becoming an essential event on the sector's calendar.
Doblemente, Tecnalia and Sismotour are three companies that have participated in the event since the very first edition, and have been recognised for their loyalty.
Jorge Mira Uclas, CCO of Doblemente said that "Fitur Know-How & Export equipped us with the knowledge and experience that we needed to be able to make the leap into Latin America, and we currently have projects in 5 countries".
For Jesús Herrero, Tourism Marketing Manager at Technalia, "Fitur Know-How has enabled us to introduce ourselves and present highly innovative solutions to the sector. It's an essential forum to make sure we keep on moving forwards", and Augusto Ramos, partner and CEO of Sismotur, said, "it's an unmissable event, an opportunity to meet with tourism destinations and a forum for us to showcase our innovations".
Visit by international buyers
As in previous editions, Fitur Know-How & Export will be welcoming international buyers interested in learning about the tech solutions developed by Spanish companies, with a view to their possible internationalisation. In collaboration with Spain's economic and trade offices in Bogotá and Zagreb, ICEX has invited two buyers from each of these markets. These are executives from hotel groups interested in learning about what Spanish companies have to offer in terms of tourism technology for hotels.
To this end, an individually tailored schedule of visits to exhibitors has been arranged for them, which will enable them to learn about the tools developed by these leading Spanish companies in this segment of the tourism industry at first hand
Working agenda with the Brazilian tourism delegation
ICEX has also prepared a schedule of bilateral meetings with a Brazilian delegation headed by the Brazilian Minister of Tourism, Gilson Machado Neto, and the President of Embratur, Carlos Alberto Gomes de Brito.
The Spanish companies that will be holding these meetings specialise in strategic consultancy for tourism, heritage issues, sustainability and the environment, the implementation of technology and big data solutions.
Measuring the carbon footprint
It should be noted that SEGITTUR is measuring the carbon footprint generated by the construction of the stand, as well as that produced by visitors to Fitur Know-How & Export.
A visitor interaction point has been created to measure the carbon footprint of employees and visitors. Moreover, various QR codes have been placed on the stand, in SEGITTURLab, and in the Auditorium that allow access to the measurement platform via mobile devices, thus enabling each visitor to see the carbon footprint generated, and the individual initiatives undertaken to offset it.
SEGITTUR, for example, will be planting 50 trees to offset the carbon footprint generated during Fitur Know-How & Export.
In collaboration with the company Atribus, this year SEGITTUR is measuring the digital footprint created by the event using the hashtag #FiturKnowHow. To do this, we have digital screens that show the network activity of SEGITTURLab, the companies exhibiting, and all the various activities in the auditorium.