Through SEGITTUR, the Secretariat of State for Tourism is heading the Smart Smart Tourist Destination project, a pioneering international initiative aimed at implementing a new model to improve competitiveness and the development of a tourism based on governance and co-responsibility.
This initiative, which grew out of the 2012-2015 National Integrated Tourism Plan, provides the necessary mechanisms to facilitate the rapid incorporation of innovations in destinations.
What is a Smart Tourist Destination? (link)
An innovative tourism destination, based on an infrastructure of state-of-the-art technology, which guarantees the sustainable development of universally accessible tourist areas, enabling visitors to integrate and interact with their surroundings, raising the quality of their experience at the destination, and improving residents' quality of life.
How to become a Smart Tourist Destination
In our role as project manager, SEGITTUR suggests starting off with a comprehensive diagnostic procedure which will then provide a base for the design of an action plan that can be integrated with the destination's own strategy to prepare the ground for its transformation into a Smart Destination.
This methodology is based on a five-pillar analysis, the pillars being governance, technology, innovation, accessibility and sustainability, in order to develop a comprehensive and integrated vision of the destination that includes all areas.
This is followed by a monitoring phase during which the destination has the opportunity to distinguish itself with the "Smart Destination" seal and enter a process of continuous improvement that will ensure its capacity to successfully address the challenges and transformations arising from the new global economic, social and technological environment.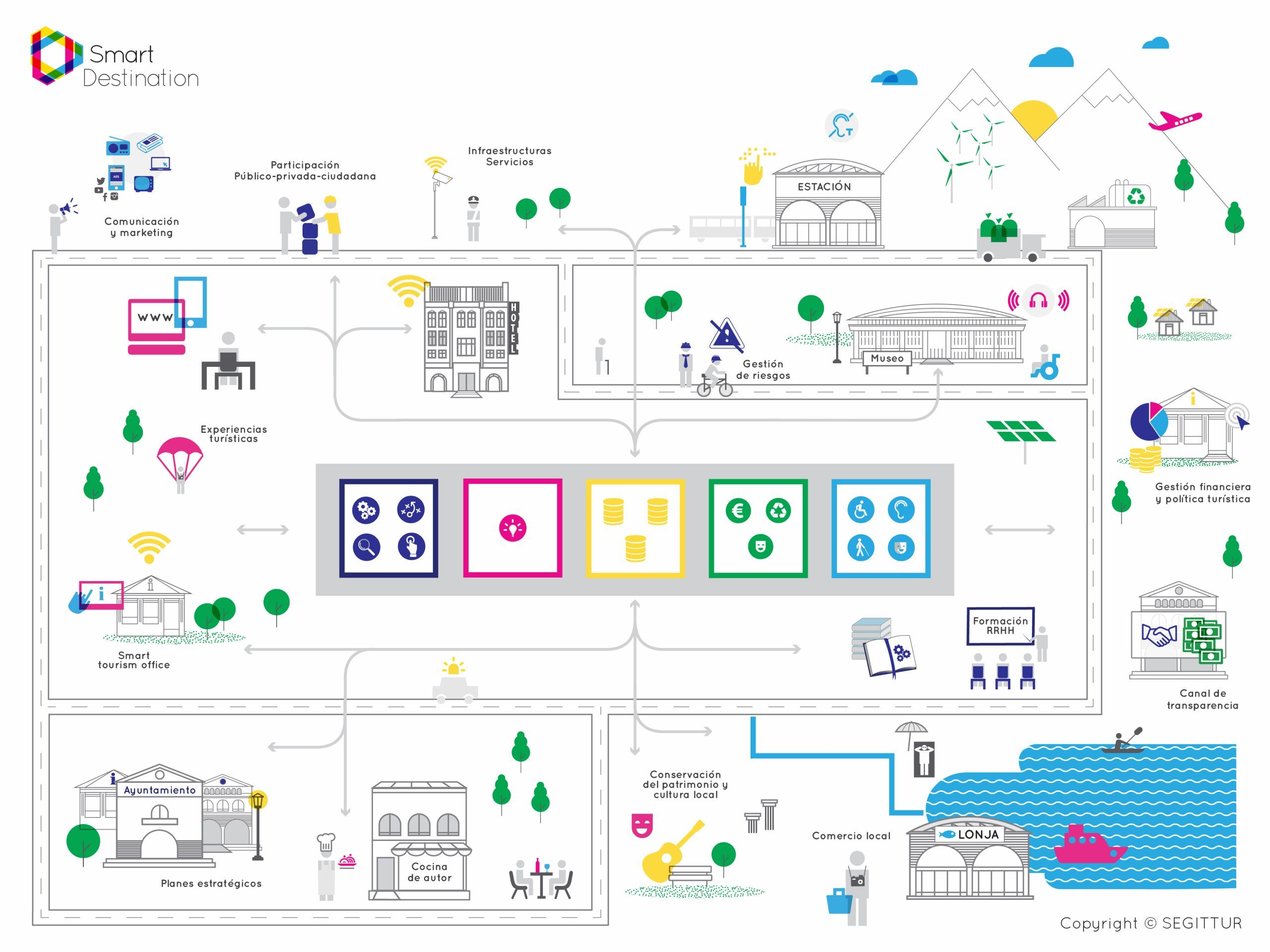 Benefits
Transformation into a Smart Tourist Destination represents the revaluation of that destination through innovation and technology, leading to:
Increased competitiveness, thanks to a better use of existing tourism resources, and the identification and creation of new ones.
An improvement in the efficiency of production and marketing processes.
A boost to the sustainable development of the destination in environmental, economic, and socio-cultural terms.
An improvement in quality of stay for visitors, as well as in quality of life for local residents.
To make the tourism strategy the basis for the economic revitalisation of the area, guaranteeing long term positive impact.